Red Pony
Branded
My Baby Thinks She's A Train
Rosevel
Bottle Of Love
I Am A Lonesome Hobo
Place In The Sun
Plaything
Old Ghostrider
Hanging Shed
Hell Of A Summer
Madeline
Nothing Can Take Your Place
Bonus Tracks - Live At The Wireless
Interview
Old Ghostrider
Plaything
My Baby Thinks She's A Train
Rosevel
Hell Of A Summer
On The Street Where You live
A Personal View:

Treeless Plain is one of only two albums in this re-issue series to have been completely remixed, the other being In The Pines. The fact that these are the only two we have multi-track masters for could have something to do with it but both albums have very good reasons for being prime candidates for remix.
The first full length album the Triffids ever recorded was called Treeless Plain. Nullarbor. And it really is. In the early eighties the Triffids drove across this featureless waste more times than anyone really should in their van known as Happy Wheels. Over east, as Perth people say, they made friends and impressed people with their live shows, jam packed full of gems of pop/rock songwriting, mostly from the pen of David McComb. They were in their early twenties and had very limited experience with recording studios.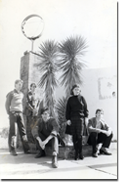 They recorded Treeless Plain in a dozen midnight to dawn sessions with a young, green recording engineer called Nick Mainsbridge (who would later work with the band on Raining Pleasure, Born Sandy Devotional and even later on Dave's solo album Love Of Will). Dave had put a lot of thought into how the songs would be recorded and mixed and, fortunately, his production notes still exist, because they came in very handy when Nick got the chance to remix the album in 2007. Legend has it that they finished recording with two hours to spare and the whole thing was feverishly mixed in the remaining time. Whether this is true or not, certainly the mix was hurried and no-one was ever completely happy with it. The band had the foresight to buy outright the hired reels of tape the album was recorded on, the usual practice being to take away your stereo master and let someone else hire out your old tape for their next masterpiece.
In early 2007 I called Nick in Sydney and he jumped at the chance to remix the album. It was a time consuming process with an element of tightrope walking thrown in. The album had to sound like the same record, only better. The aesthetic of the original had to be upheld and Dave's original wishes honoured. Imagine what it was like for Nick when the sounds of a quarter of a century ago started pouring out of the speakers and the memories of all those pizzas, beers and five young musicians with ideas spilling out of them came flooding back. I think he did a wonderful job and I hope he recovers soon.