Welcome to thetriffids.com, a site dedicated to the Australian band from the eighties with the John Wyndham inspired name and a collection of songs of peerless quality courtesy of the late, very great David McComb. Your webmaster is Graham (formerly Evil) Lee, pedal and lap steel guitarist for the band.
2006 was the start of a busy time for this site that continues to this day. The main reason for this - the complete Triffids' catalogue began rolling out in its shiny new remastered and repackaged form in 2006 and is just about complete from the point of view of official releases. we are about to delve deeper into unreleased rarities but more of that later. 2006 also marked the beginning of a series of live performances by the remaining Triffids and friends to keep alive the memory of David McComb through his music.
This site has only ever existed to keep the memory and music of David McComb alive and, to this end, we've been very fortunate to find great homes for the catalogue - Liberation for Australia and New Zealand and Domino for the rest of the world.
Most Recent News:
16th September 2011:
The final list of shows The Triffids will play later in 2011 is as follows.
24th November - Brisbane Powerhouse
26th November - Queenscliff Festival
3rd December - Homebake Festival, Sydney
4th December - Red Hill Amphitheatre, Perth
The Queenscliff and Brisbane Powerhouse shows will be two hours plus with a full complement of guest vocalists, The Blackeyed Susans and local Melbourne band Oh Mercy. Homebake Festival and Red Hill amphitheatre will be short, sharp one hour shows, the greatest hits. If only. All performances will feature the classic album Born Sandy Devotional from go to woah.
19th July 2011:
Today it was announced that Jill, Alsy, Marty, Rob and I will be playing at Queenscliff Festival on 26th November, 2011. We very nearly did this festival last year but circumstances conspired against us and it was not to be. Happily we are able to play at Queenscliff this year.
Follow the link to the festival site for more details.
And that's not all.... more exciting news to posted in this space soon.
Older News: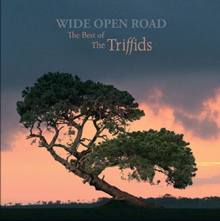 January 26th, 2010:
It's Australia Day as I write this. Only just, but I'm told BBC6 will be celebrating with some Triffids concert material among other things. I don't think I'll be taking the day off myself as we're approaching the end of the assembly of a mammoth box of rarities to be coupled with a new best of, both to be released on 5th April 2010. The box set will be called Come Ride With Me - Wide Open Road (deluxe edition) and the standard edition simply Wide Open Road - The Best Of The Triffids.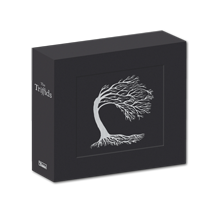 The rarities box will contain at least 8CDs and will include selections from the early cassettes released by the band, live tracks...hang on a minute, I already wrote something of a summary of the deluxe edition for our good friends at Domino so you can just read that. (Pre-orders for both are open now at the Domino website.)
The Triffids recorded six cassettes before releasing any vinyl, all self financed and sold at gigs for less measly bucks than you'd need the fingers of one hand to count. Seventy-five songs or so that have existed as magnetised fragments on tiny tapes for over 30 years. Quite a few of them are about to meet their digital destiny and they will kindly bring along with them a flavour of what it was like to be a teenager in Perth in the late 70s, well...a teenager in David McComb's sphere of influence at any rate. Dave, Phil and Alsy escaped the heat, boredom and associated water sports by writing songs and recording them and we're proud to present them to you as part of the deluxe edition of Wide Open Road - The Best Of The Triffids. The deluxe box will contain many goodies apart from that - live shows (we've tried to choose shows that were pivotal in some way and present the whole show), some radio sessions, demo recordings, rehearsal room recordings, all the early singles including the often requested You Don't Miss Your Water. The aim is not to tell the definitive story of the Triffids but to illustrate the high musical ambitions that the band held from the very beginning. As certain songs pop up more than once it will be possible to trace the coming together of a great band with the coming together of some truly great songs. You'll hear Field Of Glass, for example, get hungry in Melbourne, swallow up another song called Pleasure Slide and emerge, six months later, as the blockbuster that helped The Triffids win over a London audience in emphatic fashion as a lowly support act.
We've subtitled the deluxe edition Come Ride With Me in honour of that song and quite a ride it is too.
In a happy coincidence we will find ourselves in the northern hemisphere at exactly the time of these releases. Well, perhaps not a complete coincidence but very nearly. We are bringing our very successful tribute to Dave to The Barbican on 9th April, Kunstencentrum Belgie in Hasselt, Belgium on 16th and 17th April and Gagarin 205 in Athens on 23rd April 2010. The show is a rather lengthy showcase for the extraordinary legacy Dave left us all - it has to be lengthy because it's such a repertoire. We call it A Secret In The Shape of A Song and it features all five remaining Triffids and a string of stellar guests in a very personal tribute to the one who wrote and sang the songs. It's not just a long gig, it's a chance for musicians and audience alike to remember Dave in the best way we can - through his music.
Domino commissioned NY artist Steve Keene to play a large part in the making of a new video clip for the song Save What You Can from Calenture. This clip will be soon sent to all those movers and shakers out there so they can inform thier viewers, readers, listeners, friends etc what a great song it is and what an inspired visual pairing Keene and SWYC make. Thanks to Braden King at Truckstop Media for actually making the clip. To view the clip for yourself on Steve's site click the promo CD face below.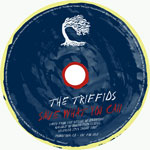 The remastered Born Sandy Devotional was received very warmly and we're now hard at work with phase two. The end of January 2007 will see In The Pines and Calenture on the shelves, two very different releases from The Triffids but more connected to each other than you might realise.
In The Pines was recorded in April 1986 not long after Born Sandy Devotional was finally released in Australia. We went to a shearing shed in WA and spent five days recording on an 8 track machine. We stayed in the shearers' quarters, consumed shearers' rations of beer and sheep and made an album that surprised us all by becoming a favourite of many fans. While it represents our equivalent of Dylan and The Band's Basement Tapes, it also served as a sketch book for our first major label release, Calenture.
The two have been paired in this re-issue series because, while they represent opposite ends of the spectrum as far as time and money spent goes, they also have much in common, not the least of which is a few songs. Jerdacuttup Man was originally slated for release on ITP rather than Calenture, an early version of A Trick Of The Light was recorded during the woolshed sessions - the list goes on, and all will become clear when both remastered (and in the case of ITP, remixed) albums are released next year.
:: David McComb died on February 2nd 1999 and is sadly missed by fans and friends around the world ::